ALM - LSU ADV ( this picture is only for ALM-LED package, other packages like ALM-CAN, ALM-Board, are also available)
ALM-LSU ADV is the latest version of ALM that uses the latest and greatest Bosch wideband O2 sensor. LSU ADV is another revolution of the Bosch wideband O2 sensor, based on LSU4.9.

While most of wideband controller manufacturers are still using the LSU4.2 sensors for their flagship products, and only a few of them just start to support the LSU4.9 sensor with their new wideband controllers, Ecotrons ALM has again taken the lead on the most advanced wideband control system with LSU ADV sensors. Our core competitiveness is based on the chip set of Bosch genuine CJ125 plus the powerful microprocessor from the leading auto-industry semiconductor manufacturer, Freescale. This chip set is same as the Bosch's own wideband controller, LT4 ADV. This enables us to bring Bosch premium products to the aftermarket and small manufacturers. The highlights of new LSU ADV sensors:

Sensing Element
New sensing element design: linear shape (LSU ADV) vs radial shape (LSU4.9)
Optimized heater design for reduced heater power demand and faster light-off time
Robustness against thermal shock improved
Protection Tube
Triple protection tube
Reduced heater voltage demand
Higher robustness against sooting
Connector / wire harness
Free choice of connector ; LSU ADV only has 5 pins
No trim resistor, automatic calibration available
Savings one wire, and less failure mode


From Bosch Literature: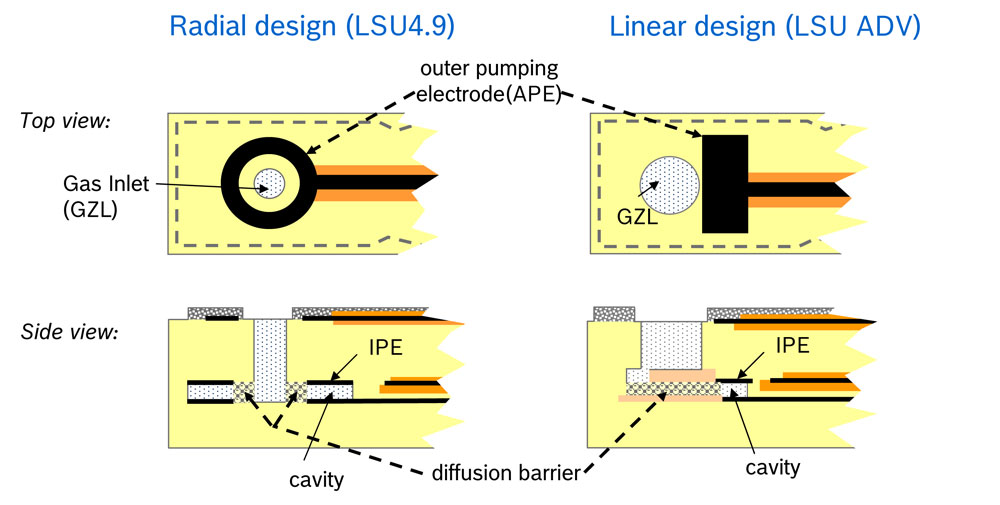 sensing element comparison LSU 4.9 vs LSU ADV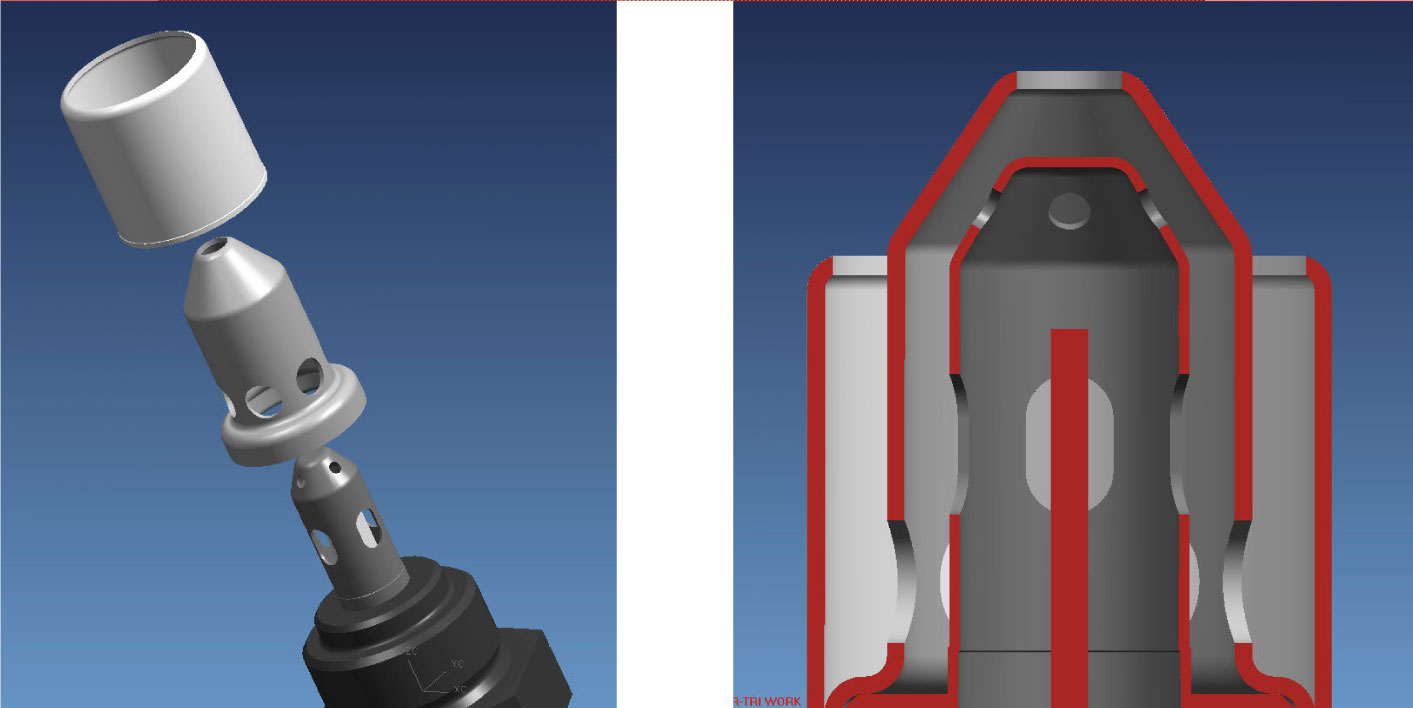 LSU ADV triple layer protection tube
ALM-LSU ADV has different packages, similar to our LSU4.9 version of ALMs. It has the below variants: ALM-LED with LSU ADV; ALM-CAN with LSU ADV; ALM-Board with LSU ADV. Again, all our ALMs have the high accuracy and fast response characteristics, which are the root of our design at the very beginning.
List of ALM-LSU ADV parts
Rugged ALM controller
built-in LED display (or other packages, contact us for details)
Harness (1.5 meter default, 3 meter optional)
Bosch LSU ADV sensor
Sensor plug and bung
Serial communication + USB adapter, Or
CAN bus optional
Blue tooth for a Droid phone app (optional, not included, $50)
CD - documents and ALM GUI software

ALM technical specifications

Power supply
Input voltage range: DC 9V~15 V(12V Typical)
Input current: 50mA typical plus the heater current
Voltage protection : Reverse polarity protected, & overvoltage protected
Load Dump Clamp : Maximum voltage
Sensors
Compatible: LSU ADV
Number of Sensors: One
Free air calibration: automatic calibration available
Measurement
Lambda range: λ = 0.55 ~ ∞ (Gasoline AFR: 8.08 to free air)
Lambda accuracy: ±0.008 @ λ=1.00
±0.01 @ λ=0.80
±0.05 @ λ=1.70
Air/Fuel Ratio: Fuel dependent (see lambda range and accuracy)
Response time
5ms updating rate (everything finished in 5ms)
Heater
Control built-in PID control with CJ125
Current Typical 1A; Max 1.5A
Heater return (H-) Separate wire from Ground
Output
Lambda analog output: 0~5V user programmable
Analog accuracy: ±0.005V error with a 10-bit DAC chip
Analog type: Reference ground to ECU
second Lambda analog output: 0~5V for a third party gauge, user programmable
Communications
advanced CAN bus communication (optional)
RS232 or USB (via an adaptor) for logging or programming
User-friendly PC software for data acquisitions and analysis
Display
4 digit LED display
including 2 digit floating numbers
AFR, lambda, O2% configurable
Main-Processor
CPU: FreeScale 16-bit micro-processor S12P (auto industry rated)
Speed: 32MHz
Memory: 128k Flash, 6k Ram, 4k Data
Load Dump Clamp
Maximum voltage
Special features
On-Board-Diagnosis and error report
Self-learning of part-to-part variations, aging effect
Working with different types of fuels (gasoline, diesel, E85, etc)
General
Temperature range: -45C ~ +125 C (can be installed in the engine compartment)
Dimensions: 4" x 2.6" x 1"


Appendix:LSU ADV vs LSU4.9


Compare items
LSU ADV
LSU 4.9
Operating temperature
785°C
780°C
System supply voltage
10.8 V to 16.5 V
10.8 V to 16.5 V
Nominal heater power at 7.5 V heater supply at thermal equilibrium in air
8.7W
7.5W
Heating response speed
Fast
Slow
light-off time
5 s
10 s
Withstand thermal shock
Stronger
Weaker
Connector
Freedom of choice
5Pin(Compared with LSU 4.9's 6-wire, the IA-line and trim resistor are reduced. Customers can replace the connector freely)
Factory preset
6Pin(It have a trim resistor and IA-line)
Nominal heater cold resistance at room temperature for new sensor, including cable and connector 20°C
2.6Ω±0.6Ω
3.2Ω
Minimum heater cold resistance at -40°C
1.6Ω
1.8Ω
Heater voltage during condensation water phase
Vh,eff =1.8V...2.0V
Vh,eff <=2V
Maximum permissible effective heater voltage VH,eff to reach the operating point
short time <= 30 sec (200h cumulated time): VH,eff <= 12 V
continuous: VH,eff <= 11 V
short time <= 30 sec (200h cumulated time): VH,eff <= 13 V
continuous: VH,eff <= 12 V
Maximum system supply voltage
<=16.5V
<=16.5V
Minimum system supply voltage
----------
>=10.8V
permanent temperature exhaust gas
<=980°C
<=930°C
pre-turbo application
Yes
No
Lifetime
150000 miles;15 years
150000 miles;15 years
sensor trimming
Trimming of sensor element
Trim resistor inconnector housing
LSU ADV with TP2 show higher soot robustness compared to LSU4.9 Test condition(soot34) Runtime: 1224h soot mass:3kg
There are not any significant changes in the LSU ADV. It even has improved response times.
The response speed of LSU 4.9 slowed down obviously, the response time is doubled
---
ALM -LSU ADV starting at
$289
ALM board kit - LSU ADV @
$229
---