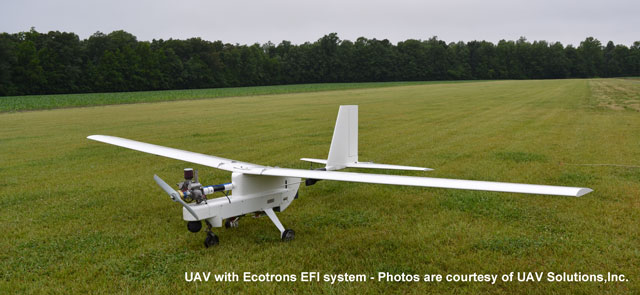 UAV (unmanned aerial vehicle) engines are mostly very small, and in the range of 20cc to 200cc displacements. Some are bigger like 200-600cc range. They are usually 1 or 2 cylinder engines, and many are 2 stroke small engines. Some UAVs use small rotary (Wankel) engines for the less vibration. All these UAV engines have something in common: they are very small, and they need the EFI (electronic fuel injection). Before the UAV time comes, many of these small engines have been used in the RC (radio controlled) airplanes by the hobbyists. All of them were carburetor engines for low cost and simplicity. Compared to RC applications, UAV engines have much higher standards and requirements. Here are some:
Long continuous flying hours, like 5 to 12 hours, or even longer;
carrying expensive equipment, like a high end camera, sophisticated flying control devices;
flying at much higher altitude, like 5000 meters;
sustaining the harsh environmental conditions, like cold, hot, and humid weathers;

Carburetor engines can not meet these requirements. The solution is EFI. EFI technology has been proved in the auto industries for larger engines. To use EFI with the UAV engines, there are some technology challenges to overcome:
super small and light EFI components;
very small electrical power consumption by the EFI;
very high reliability of the EFI system;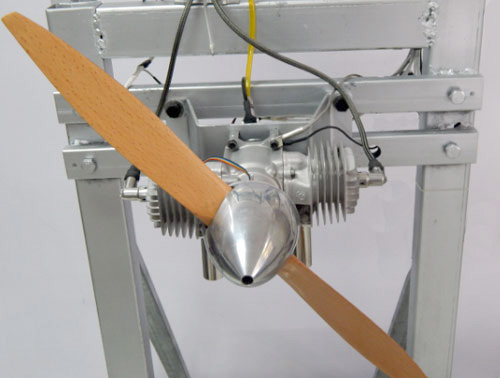 3W-56iB2 engine EFI setup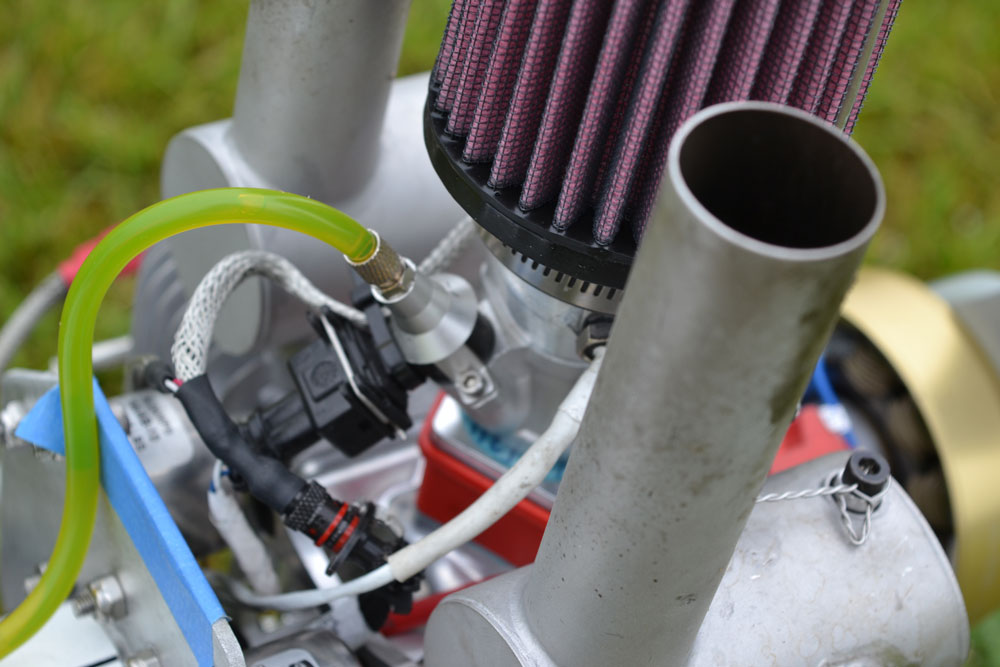 DA120 EFI(Photos are courtesy of UAV solutions)
Ecotrons EFI systems have been widely used in all kinds of small engines like those of motorcycles, boats, ATVs, snowmobiles, generators, law mows, etc. We now have developed some high quality UAV EFI systems with the below components:
super small and light ECU with mini-D connector (120 gram weight);
micro size gear pump with very small electrical power consumption (0.5A ~ 2A current draw);
small size throttle bodies ( 14mm, 18mm, 22mm bore sizes), direct replacements of some popular small carburetors;
small size and small flow rate injectors for the small engines (30g/min flow rate, 30gram weight);
integrated servo and the throttle body, ECU will read the servo position and drive the servo if needed;
customized harness, light weight and harsh environment proof;
Optional single or dual CDI ignition, programmable via ECU
Ecotrons UAV EFI kits have been used with some of the most popular engines like 3W engines, Desert Aircraft engines, and DLE engines. Below are some of the examples that we have done to cnvert these carb engines to EFI engines.


Ecotrons UAV EFI installation manual for DA150-V1.7


Ecotrons UAV EFI kit installation manual for 3W-56iB2 – v1.7


Ecotrons UAV EFI kit installation manual for DLE120 – v1.7


The biggest advantage of the EFI engine over carb engine so far found by us is the fuel economy. We have noticed 30-50% fuel economy improvement by the EFI with some of the typical UAV engines. Here is data as one example:


The comparison of DLE60 engine power between EFI system and Carburetor


Fuel economy comparison between Carb and EFI engine – DLE120 engine

Ecotrons ECU for UAV engines:
Aluminum case, light weight: 120 gram total;
Mini size: 78x64x20mm (3.1×2.5×0.8″) dimensions;
mini-D connector (37 pin);;
built-in baro pressure sensor, automatic altitude compensation;
controlling 1 or 2 cylinder engines, both fuel injection and ignition controls;
CAN bus capable;