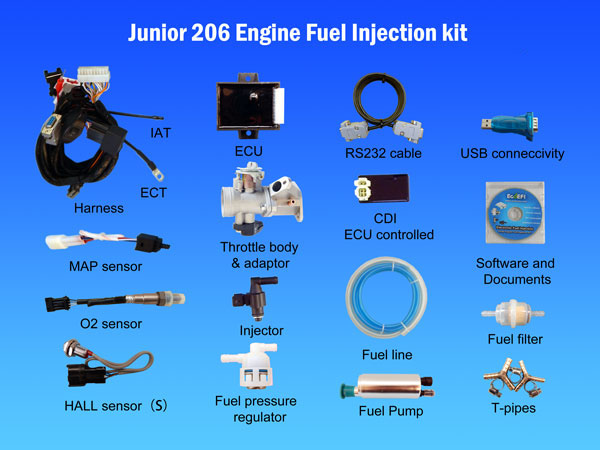 Briggs and Stratton Junior 206 engines have been chosen for Formula SAE engines for its outstanding performance. Ecotrons has a bolt-on EFI kit for this engine. The EFI kit is a complete kit including an intake manifiold with an injector mounted on it, aka, port fuel injection system. This EFI kit has been tuned for Jr. 206 engine, and you do not have to tune it. It is a fully tunable system though if you want to play with it. It is a perfect EFI system for student to learn. EFI brings the proved advantages over carburetors, like easy cold start, great fuel economy, smooth idle and running, fast throttle response, etc.
This kit can also be used on the same type of Briggs and Stratton engines, like local 206 engines, world racing engines, with some fine tuning.
This EFI kit has below features:
Electronic fuel injection (EFI)
ECU controlled CDI ignition system
Close-loop controls with an O2 sensor
Dual fuel maps selectable by a manual switch (Performance Switch: ECO vs. RICH Mode)
High fuel efficiency and low carbon emissions
Decel-fuel-cut-off
On board self-diagnosis with a MIL lamp
Performance tuning for advanced users
On-the-fly calibration
Parts:
1.ECU
2.Harness (including the connectors)
3.Throttle Body Assembly
28mm Throttle body, flange mounting with TPS sensor
Customized intake manifold with the injector mount, aka, port fuel injection
Fuel injector (128g/min)
4.Fuel pump assembly
Fuel pump (compact size:38mm diameter) (comparative low power: 2A current) (Flow rate: 25L/h)
Fuel pressure regulator(3bar)
Fuel filter
fuel hoses and clamps
5.MAP sensor (1.05bar)
6.Engine temperature sensor
7.Intake air temperature sensor
8.CDI – for ECU controlled spark advance (included, for both fuel and spark controls, fully programmable)
9.Oxygen sensor and bungs (included, to have close-loop fuel and self-tuning features)
10.Serial communication cable (to a computer)
11.USB adaptor (included, USB connectivity, and no more RS232 port needed)
12.CD – free tuning software (also downloadable)
This kit requires 12v power supply. The electrical power draw is 40W, or 3A max.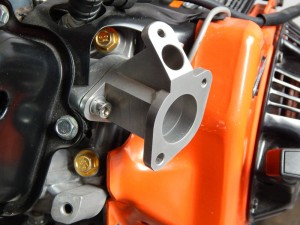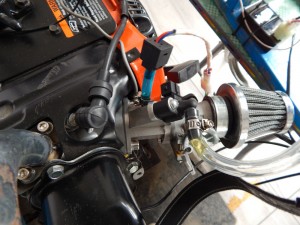 For details, click the below:
Briggs and Stratton Junior 206 Engine EFI kit @ $699 USD
Note: we sponsor student teams with discounts!