2-stroke Small Engine Fuel Injection Kit
2-Stroke Small Engine Fuel Injection kit is designed to run 2-stroke small engines. Compared to our 4-stroke EFI kits, this kit can drive 2 injectors per cylinder (one big injector, one small injector). During idle, and low part loads, ECU only opens the small injector for small fuel quantities; it will switch to the big injector for mid, or mid-high loads; and it will activate both injectors at WOT conditions. The transitions between the injectors are transparent to the driver and they are so smooth that the driver can not feel it. This setup controls the accurate AFR (lambda) from idle all the way up to 16000RPM. We have a Patent pending on this. The kit also supports a turbo charger, with a 2.5bar MAP sensor and bigger injectors.

Patent Pending: 2-injector-multi-stage Fuel Injections based on fuel demand and available injection time

Click here to see why 2 injectors?

Video: A non-professional hobbyist, probably the first converter, said it's very easy to install!

Video: Flying with a fuel-injected 2-stroke engine on a Top80 ParaMotor
This EFI kit has below features:
Electronic fuel injection (EFI)
ECU controlled ignition system (either CDI or inductive coil, optional)
Support all kinds of trigger wheels (one tooth, or 12-1, 24-1, 36-2, 60-2, etc. tooth wheels)
Do I need to install a multi-tooth trigger wheel to replace the stock pickup?
Control 2 injectors, one small, one big; rev limit up to 16000RPM (second injector optional, NOT included)
Do I need the second injector? ($149 extra for 2nd injector and throttle body mounting)
Dual fuel maps selectable by a manual switch (Performance Switch: ECO vs. RICH Mode)
High fuel efficiency and low carbon emissions
Automatic altitude compensations
Automatic temperature compensations
On board self-diagnosis with a MIL lamp
Idle air controls (IAC) built in with 34mm/42mm/52mm throttle bodies
Exhaust gas temperature (EGT) based fuel compenstaions (optional)
2-cylinder system (contact us for availability for your engines)
Performance tuning for advanced users
Parts:
1.ECU - aluminum housing & water-proof ( a smaller and lighter plastic case ECU is available.)
2.Harness (including connectors)
3.Throttle Body Assembly
28mm/34mm/38mm/42mm/45mm/50mm/60mm Throttle bodies (TPS included; IAC included with 34mm up TBs.)
Fuel injector (38/60/80/128/190/248g/min) (1g/min = 1.39cc/min); 490/660cc/min up to 1000cc/min large injectors now available!
bigger throttle bodies and bigger injectors are available as cumstomer requests
4.Fuel pump assembly
Fuel pump (2A current) (Flow rate: 25L/h or 45L/h)
Fuel pressure regulator(3bar)
Fuel filter
fuel hoses and clamps
5.MAP sensor (1.05bar NA / 2.5bar for turbo)
6.Engine temperature sensor
7.Intake air temperature sensor
8.CDI - for ECU controlled spark advance (optional, NOT included, capable of max 8000rpm)
Do I need the ECU controlled CDI? ($100 extra)
9.Coil - CDI fired (optional, NOT included)
10.Oxygen sensor and bungs (optional, NOT included)
Do I need an O2 sensor for 2 stroke EFI? ($55 extra)
11.Serial communication cable (to a computer)
12.serial to USB adaptor (optional, INCLUDED)
13.CD - free tuning software (also downloadable)

This kit needs 12V battery and charging system.
This kit requires appropriate pickup signal input. Contact us to confirm whether your engine's pickup sensor can be used or needs adaptation.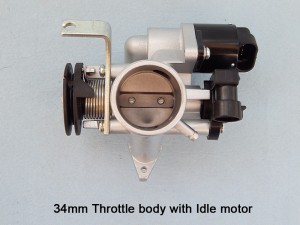 click to see large pictures with dimensions
For more throttle bodies and intake manifolds, please contact us!

2-Stroke Small Engine EFI kit starting from $599 USD (with a 28mm TB)(contact us for other sizes of 2 stroke EFI kits)