Briggs and Stratton 36hp Vanguard 993cc engine has been used as the shallow water outboard motor (mud motor) for years. This engine is known for simplicity, durability, and affordability. The stock 36hp engine came with a carburetor which had the shortcoming of a typical carburetor engine: difficult cold start, rough idle, stalls, lack of power, and frequent maintenance. Ecotrons has been supplying an EFI kit to some boat manufacturers to convert this carburetor engine to fuel-injected for 2 years. This EFI kit has been installed on many new Briggs & Stratton 36hp engines. It has been proved to be a solid kit, increasing the engine power, saving the fuel, as well as other EFI advantages. Now Briggs and Stratton has released its own 37hp EFI Vanguard 993cc engine to the market. It is basically the same engine with a factory EFI system. For those who have already owned the carburetor engines, you now have the option to upgrade your carb engine to fuel injected with the Ecotrons EFI kit. This EFI kit includes almost all necessary parts to completely replace the carb fuel system (see below for some adaptation needed). The throttle body and manifold assembly are bolt-on to the engine. It is easy to install for the people who are mechanical inclined. You do NOT need to tune it. You can tune it if you know how to tune EFI. It is a fully programmable EFI system. For those who have the "stage I, or stage II" engines with cam mods, polished ports, shaved heads, and/or after-market exhaust, this EFI kit is a perfect cure for the carburetor related issues. We even have the tuning for stage I or stage II engines ready to ship.

This EFI kit could add 4hp to the stock carb engine, and could add up to 10hp with the modified engine. The top speed of the boat can be increased by up to 4mph compared to the carb engine. With this EFI conversion, the fuel economy improvement can be 20-40% depending on variant factors.
Even though the EFI is supposed to reduce the emission significantly, the conversion will void the factory emission certificate, since it is an aftermarket conversion. EPA would love to see this happening though.

This EFI kit has below features:
Electronic fuel injection (EFI)
Close-loop controls with an O2 sensor (optional, not included)
Dual fuel maps selectable by a manual switch (Performance Switch: ECO vs. RICH Mode)
High fuel efficiency and low carbon emissions
Decel-fuel-cut-off
On board self-diagnosis with a MIL lamp
Performance tuning for advanced users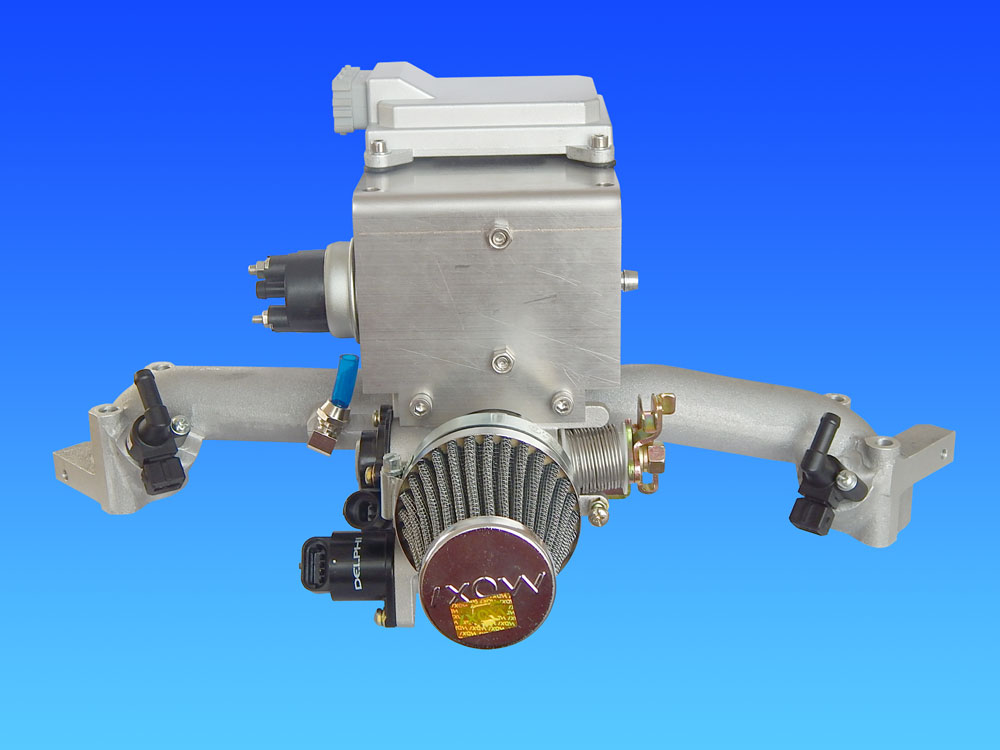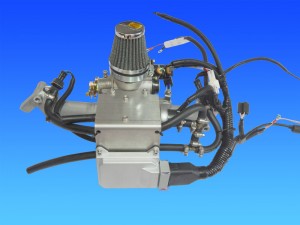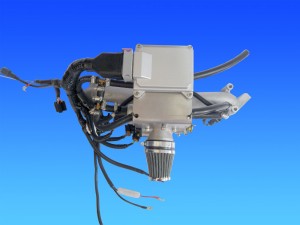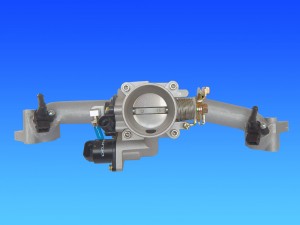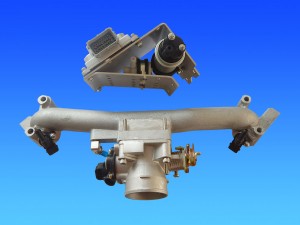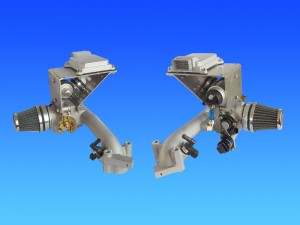 div>

Parts:
1.ECU (aluminum housing, water proof)
2.Harness (including the connectors, waterproof)
3.Throttle Body Assembly
45mm Throttle body (compared to Briggs 32mm TB)
TPS sensor
Idle Air Control Motor (IAC)
4.Bolt-on intake manifold Assembly
replacing the stock manifolds
larger ports and more air flow compared to the Briggs manifolds
2x Fuel injectors (190g/min flow rate)
5.Fuel pump assembly
External type fuel pump (Flow rate: 45L/h,120L/h)
Fuel pressure regulator(3bar)
Fuel filter (metal housing)
fuel hoses and clamps
6.MAP sensor (1.05bar)
7.Engine temperature sensor
8.Intake air temperature sensor
9.Oxygen sensor and bungs (optional, not included)
10.Serial communication cable (to a computer)
11.Serial to USB converter (included)
12.CD - free tuning software (also downloadable)
13. An integrated bracket to hold the ECU and fuel pump on top of the throttle body assembly will be included soon

Note: the kit installers need to take care of the below adaptation:
This EFI kit requires a fuel return line back to the tank. Or if you have a vapor separator, you can route the fuel return line to the vapor separator.
Depending on which boat manufacturer is the carb engine bought from, the throttle cable mechanism will be different. The installer may need to add some throttle cable bracket for the EFI system.
It is recommended to have an adapter between the throttle body and the pod air filter (included in the EFI kit), which can fit / connect the stock crankcase vent hose, and also fit the intake air temperature sensor.
The existing small plastic cover above the carburetor and manifold may not be usable any more, since the new manifold and throttle body assembly will take more room. You may need some new cover for rain or mud.

More notes:
This EFI kit is sold as an after-market conversion kit. The target customers are those who have already owned the carburetor engines. By using this kit to replace the carb system, the engine owner will take the responsibility of the emission compliance.
This EFI kit is the most completed EFI kit ever for this engine, but still it is an advanced technology system, and the installation itself can be challenge for a regular "Joe" who has not done any engine work before. It is recommended for those people who are not mechanical inclined, or do not have means, to pay those who are capable to install the kit for them. The best installers are the mud boat dealers, or those who have already been doing some performance engine mods. An important benefit is that you know you can get immediate help from this local installer if you run into any issue.
You will need to keep the stock vacuum pump to feed the low pressure fuel to the EFI pump.



For details, click the below:

Briggs and Stratton Vanguard 993cc Engine EFI kit @ $1200 USD


Note: Dealers are welcome! Variant discounts available!