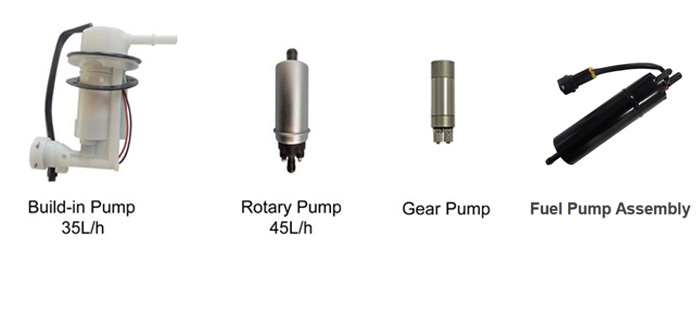 General description
Fuel pump is one of the basic components of electronic fuel injection system, which is generally driven by a small DC motor. Its role is to suck out the fuel from the tank, and then transport to the fuel line after pressurized, it is often fit the fuel pressure regulator to ensure a constant supply of fuel.
Parameter
Project
Parameter
Build-in Pump 35L/h
Rotary Pump 100L/h
Rotary Pump 45L/h
Rotary Pump 25L/h
Gear Pump
Rated voltage
DC12V
+11~17)VDC
Rated current
3A
5A
2.5A
1.5A
<1.5A
Pressure
300kpa
300kpa
300kpa
300kpa
—
Flow rate
greater-than 35L/h
100L/h
45L/h
<12L/h
0.5-1.0L/min
Fuel Pressure Regulators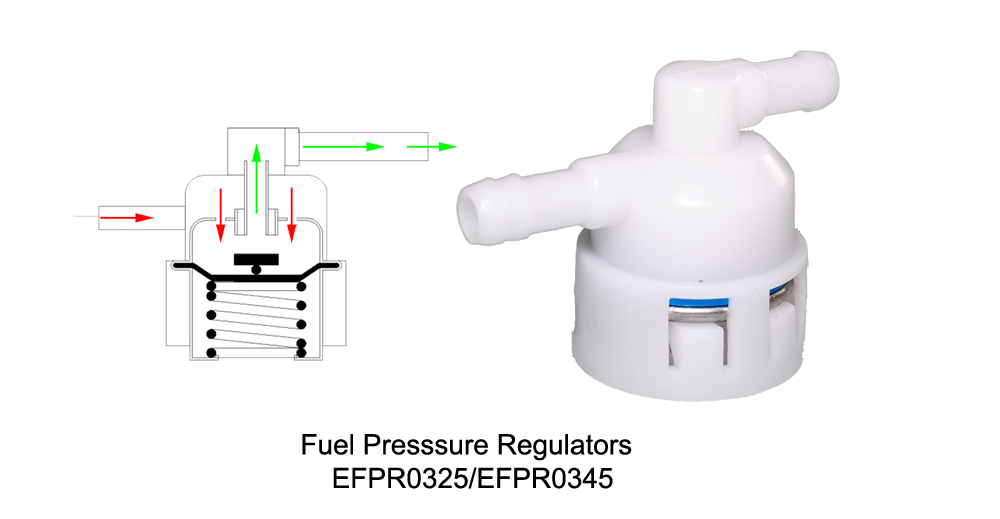 Fuel pressure regulator's role is to ensure the pressure of fuel supply system that injection pressure is kept constant. The injection volume of injector is depended on the injection pulse width and injection pressure. The same injection time, the higher injection pressure, the more fuel volume, and vice versa. So just keep injection pressure constant, which make the fuel injection volume under various load depends on the injection pulse width uniquely. Therefore, ECU can precisely control the volume of fuel injection.
Pressure Regulator type: 300Kpa @ 25L/h and 300Kpa @ 45L/h.
Suitable for all types of 50cc-1000cc displacement small engine conversion.
For details of fuel pump and fuel pressure regulator, click the below:

ECOTRONS Small Size Fuel Pump technical spec – v1.3.5


ECOTRONS Middle Size Fuel Pump technical spec – v1.3.4


ECOTRONS Fuel Pressure regulator technical spec – v1.3.5